Kitchen Countertops in Birmingham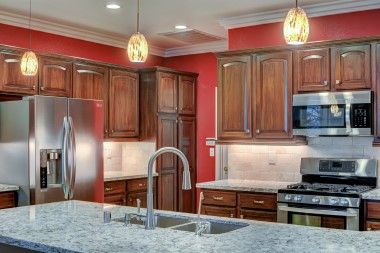 You have a long list of requirements for kitchen countertops in Birmingham. Countertops must provide a durable work surface, while offering design options that add appeal and value to the kitchen. Bring your list to ProSource of Birmingham, where you can choose from a multitude of options in our 10,000-square-foot showroom.
To make shopping easier, we assign you a dedicated account manager. This professional knows all about various surface materials and can tell you the difference between granite kitchen countertops and marble kitchen counters. With extensive product knowledge, he or she serves as your point person for your kitchen remodeling project. Choose from the following countertops materials in our showroom:
Granite
Marble
Quartz
Solid Surface
Laminate
Granite Kitchen Countertops
Glorious granite is a high-end choice for countertops. However, you do not have to worry about paying those prices in our kitchen showroom. We provide our customers with the lowest guaranteed prices. As we purchase countertops as part of a 135-member buying group, our local showroom commands great power. We are able to buy the most beautiful brands of granite at affordable prices. You can afford granite for your kitchen remodeling project.
As a countertop material, granite is uniquely appealing. This natural stone has speckles, patterns, or veins that make each slab distinct. Available in a variety of earthy colors, granite brings great beauty and value to any kitchen makeover. Granite is ideal for kitchen countertops as it is provides a cool surface that is heavy, durable, and hard to scratch.
Wholesale Marble Kitchen Counters
Get the lowest prices on elegant marble countertops from our kitchen showroom. Marble is prized for the veins that swirl throughout each slab, which make the countertops you choose for your remodel different from anyone else's. Selecting marble countertops for the kitchen increases the resale value of any property. Marble is a stone that grows more beautiful with age. That longevity is directly related to its ability to resist heat, cracks, and scratches.
Cambria Countertops have financing. This link is to Cambria, https://www.cambriausa.com/Purchasing/financing/. Please speak with your account manager about the Cambria Countertop financing.
Kitchen Island Countertop – A Must for Every Remodel
A kitchen island countertop is a must-have for any remodeling project. An island adds essential countertop and storage that is essential in a room where food, dishes, cookware, and cutlery compete for space. Selecting the right material is especially important as this surface may well do double duty for food preparation and eating space. Find attractive and durable surface materials for a kitchen island in our showroom at affordable prices.
In fact, our showroom is known for providing you with the lowest pricing for all of our brand-name products. Choose from the following reputable brand names from trusted manufacturers:
Contact us today for a wide selection of surface materials for kitchen countertops at low prices. We serve trade professionals and their clients in Pelham, Hoover, Birmingham, and Mountain Brook, Alabama.